Body Shaping
With Ultrasound and Radio Frequencies
The difference between us and other treatment centers is we are passionate about what we do and we always search to discover the best and newest technology available to us to use in our treatments.
With our technology we can develop a treatment plan perfectly suited for everyone, combining of all the tools that we have at hand to best meet your goals. We have developed a way to get you affordable, immediate and long-lasting results.
Cavitation Ultrasound Technology
Cavitation is a highly efficient method that finally does away with excess fat and cellulite without surgery. With the ultrasound head, fat cells vibrate in a certain way that causes them to implode. This breaks the cell wall and enters the contents of the fat cells released into the bloodstream. The releases fat is absorbed into the blood and lymphatic system which is then degraded and discharged naturally.
Radio Frequency Technology
Lift and tighten without invasive surgery. Radio Frequency Treatment combines the proven technology of RF for heating the subcutaneous region of the body with a therapeutic cooling head to produce maximum results with no discomfort. Youthful skin vitality is restored while restoring collagen and elastin.
Microcurrent Body Sculpting with iLipo
This technique is a low cost painless alternative for those wishing the results of surgical cosmetic treatments. Firming, contouring and lifting the overall droop and smoothing the skin of cellulite. The microcurrent incorporates LED Light Therapy that helps the reproduction of collagen which helps with elasticity and droopiness.
This treatment features Microcurrent LED, Cavitation Ultrasound, Radio Frequency and Lymphatic. Each treatment includes a combination of these tools so that each and every treatment is customized to you and gets you closer to your goal with each treatment.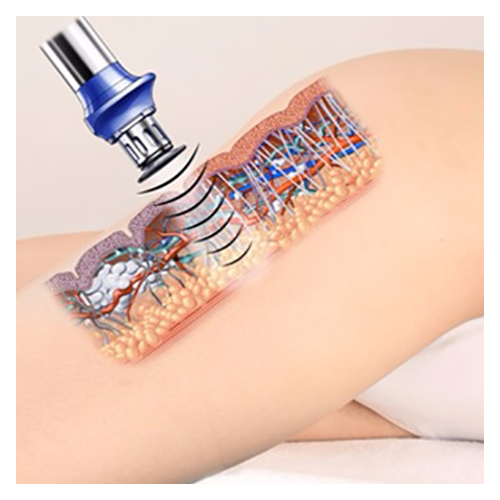 Body Shaping Enhancement Prep Kit
Designed for you to get the absolute best results and value from each body shaping treatment, preparing your skin before and in between each treatment is vital.
Created by SLN Organic Skin Care, the Body Shaping Enhancement Prep Kit was developed to enhance the effects of your treatment. It is created with extremely effective concentrated organic ingredients to firm, hydrate, and moisturize your skin while increasing blood circulation.  It helps remove cellulite, firm and alleviate crepey skin.
It is recommended that you use your prep kit three times per week including right before your body shaping treatment.
The kit includes the following:
8 oz. Organic Firming Body Wash (Sulfate-Free)
8 oz. Organic Firming Coconut Sugar Body Scrub with Scrubby Gloves
8 oz. Organic Firming Body Creme
Prep Kit for $99
Buy Organic Skin Care Products
Get Suzanne's Skin Care specially-made products directly from her. Suzanne Nicholson, LE, Oncology-trained.
Products can be purchased from Suzanne at Back 2 Perfect or ordered by email: [email protected].